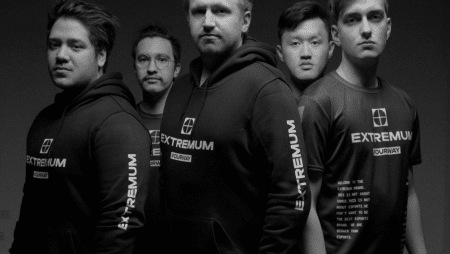 New CS:GO Roster for EXTREMUM
The former CS:GO roster of 100 Thieves will compete for EXTREMUM in the future. Together with newcomer Hansel "BnTeT" Ferdinand they want to establish themselves in Europe.
The EXTREMUM and 100 Thieves organizations both parted ways with their CS:GO rosters last October. Now four of the five ex-100 Thieves players have found a new home in this very EXTREMUM. For EXTREMUM it is the first international roster.
EXTREMUM attacks in Europe
Aaron "AZR" Ward, Sean "Gratisfaction" Kaiwai and Jay "Liazz" Tregillgas join directly from the former Thieves roster. Norwegian Joakim "jkaem" Myrbostad tried out for three months with domestic club Apeks before rejoining his former teammates. The fifth of the bunch is Indonesian Hansel "BnTeT" Ferdinand, who was previously under contract with Gen.G. The 25-year-old is widely regarded as one of the best players in the world. The 25-year-old is widely regarded as Indonesia's best CS:GO player and is also one of the best professionals in Asia.
THE TEAM. pic.twitter.com/ayE5GVHP3a

— EXTREMUM #OURWAY (@extremumgg) January 24, 2021
According to HLTV, the team plans to compete in Europe but travel to North America for some RMR tournaments. All players have been able to earn valuable RMR points in 2020, which they want to keep by participating in said events to qualify for the Stockholm Major.
Since all CS:GO events in North America have switched to an online format, the roster had planned to move to a European team. In an interview, AZR stated, "I'm excited to finally play with my old teammates […] again and with our new colleague BnTeT."
It will be exciting to see what level they are at compared to European teams. Against the backdrop of the weakening North American CS:GO scene, it will be a real challenge to prove themselves against the top teams in Europe.