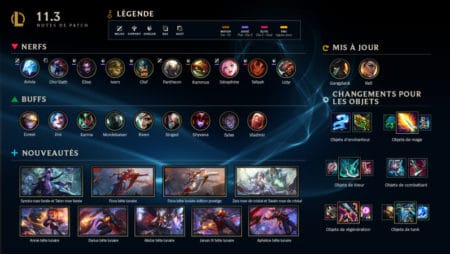 LoL: a lot of balancing in patch 11.3
Season 11 of the League of Legends is on its way and some champions are starting to prove to be far too powerful and others not powerful enough. Check out all the changes and balances in this 11.3 patch.
The new season has been underway for almost a month now, and several champions are standing out in both the league and the competition. As a result, Riot Games has reacted with a lot of nerves but also some buffs to see some missing champions from the Rift.
Between Olaf, Pantheon or Taliyah, all three are omnipresent in the jungle, especially at high altitude. The first two take great advantage of an object that is also modified in this patch, the Eviscerator. It allows to take advantage of a much too important regeneration and is logically nerve. On the improvement side, we find some champions like Jinx, Singed or Vladimir.
Many skins also make their appearance in this patch 11.3 with the whole lunar beast collection composed of Fiora, Viego, Annie, Darius, Alistar, Jarvan IV and Aphelios. Two duos of skins will also be available in store with Zyra and Swain crystal pink as well as Syndra and Faded Pink Heel. Finally, if you are a fan of the ARURF mode, you will be delighted because it is back on the Invocator Rift. To see all the patch notes, click on this link. In the meantime, we leave you with the cinematics of the Moon Beast Festival.