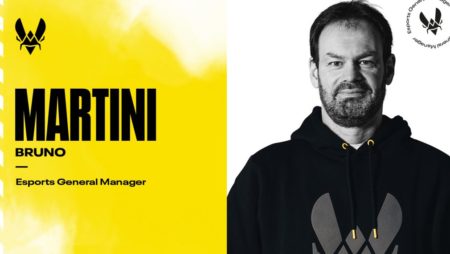 Former Paris-Saint Germain GM Hired by Team Vitality
French organization Team Vitality have announced the arrival of Bruno Martini, who is a former handball professional and General Manager of Paris Saint-Germain's handball team. Martini's track record speaks for itself, with Vitality having brought him in to aid with its performance structure.
Martini won no less than 17 titles during his eight years in charge of Paris Saint-Germain, setting a host of records in the process, both on an international and domestic basis. The Frenchman is also a 2x World Handball Champion, with Martini set to be in charge of Team Vitality's infrastructure across all rosters.
Why Team Vitality Opted to Hire Martini
Performance philosophy and programmes will also be on the agenda for the new man, with Team Vitality President and co-founder, Fabien "Neo" Devide having had the following to say on Martini's arrival:
"We take performance incredibly seriously at Team Vitality, of course in-game, but our players are professional competitors, and to perform at the highest possible level we need to give them every advantage. I was looking for former professional sportsmen with experience in management, and I couldn't have hoped to find someone with a resume as impressive as Bruno's. I cannot wait to see what he brings to Team Vitality."
What Martini Will Bring to Team Vitality
Martini will be based at the organization's V.Hive performance center, while he is expected to travel to major tournaments alongside Vitality players. With Vitality's LEO and LFL teams being based in Berlin, it is likely that he will spend time in Germany too. Martini has also spoken upon his move to Team Vitality, stating:
"There are so many important factors to performance, team spirit, fitness, mental health support, etc. and what's essential is that our players are convinced that this will make them play better, and play better as a team. This is my first role in esports, and I was hugely impressed by the Team Vitality brand and the infrastructure they already have in place. I'm very excited for this new challenge of bringing my experience in building performance structures around professional sportsmen to esports players."
Team Vitality has long been willing to invest in performance, with the organization having announced partnerships with Aldi, Garmin and Incept at the start of 2021 already. We will wait to see just how quickly Martini can have an influence upon the organization.