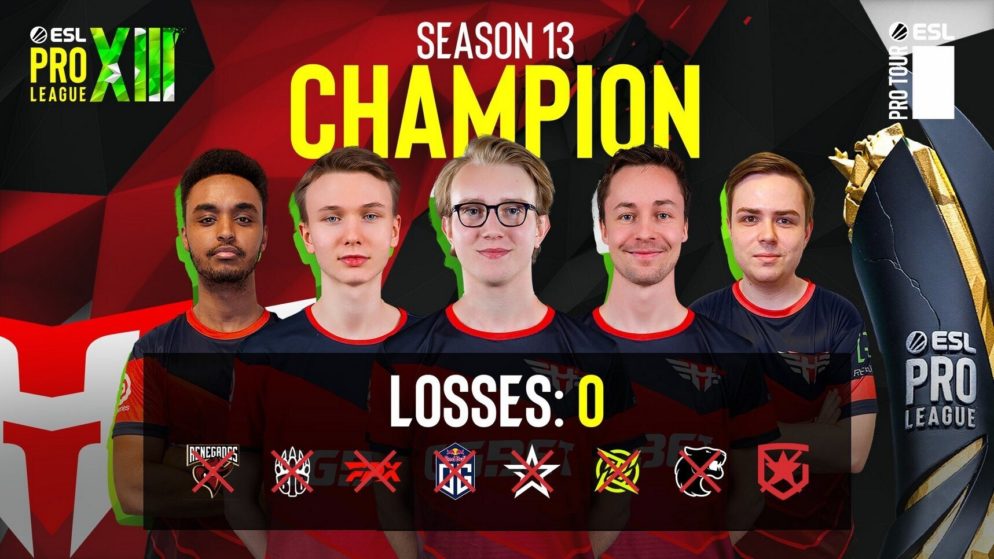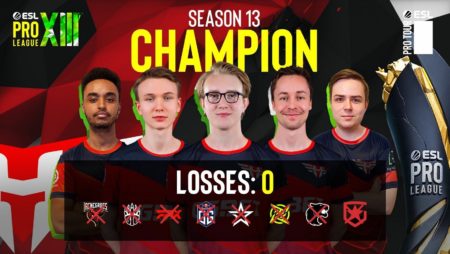 ESL Pro League 13: Heroic wins
It was hard, it was long and above all it was quite surprising: In a dramatic final Heroic won the ESL Pro League title after several overtimes.
Hardly anyone expected this at the beginning of the tournament: Heroic prevailed in the final against Gambit Esports with 3:2 (19:17; 3:16; 28:26; 10:16; 16:6) and can call themselves the new champion of the "Counter-Strike: Global Offensive" league ESL Pro League. And that with a perfect run! Heroics announcer Casper "cadiaN" Møller is thrilled in the interview afterwards:
"They were considered by many to be the best team in the world. This was our first tournament and we beat them – this is now Counter-Strike history."
On the first map, the Gambit team first showed what they had to offer. But Heroic quickly followed suit and secured the win on that map. One map later, Gambit easily overtook Heroic, but that wasn't the end of the story.
🏆ESL PRO LEAGUE SEASON 13 CHAMPIONS🏆

After a tough 5-map series we stand as winners in ESL Pro League Season 13! GGWP @GambitEsports 👊

Thanks for all the support this tournament, and remember to always #BeHeroic ❤️#ESLProLeague pic.twitter.com/W2Owp7KwuE

— HEROIC (@heroicgg) April 11, 2021
Four overtimes and a lot of thrills
On the third map, the two competing teams gave each other nothing: from one overtime to the next, until Heroic won this map after two hours and four overtimes. Gambit didn't let that sit for long and followed suit – 2:2.
The neck-and-neck race was finally decided on the fifth map. While Gambit often scored at the start, it was the Heroic boys who took the initial lead. Gambit quickly followed suit, but it didn't last long. Only one more round stood between Heroic and the big win.
Courageous knife attack led to victory
Player "cadiaN" provided a surprising finale in the last round: Alone against four armed enemies, he pulled out his knife and finished off one of the opponents, grabbing the weapon and setting off for more shots. With only two health points remaining and three eliminations in a row, "cadiaN" turned his team into champions. This will go down in Counter-Strike history.