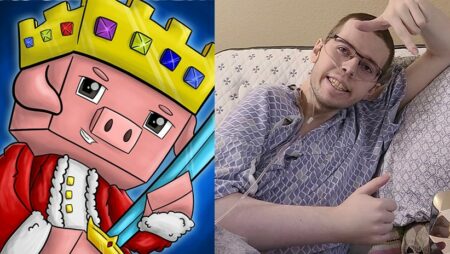 YouTube icon "Technoblade" (23) passed away
Youtuber Technoblade has lost his battle with cancer, his father says in a farewell video. The world-famous Minecraft player announced ten months ago that he was fighting a sarcoma, a malignant tumor. He lived to be 23 years old.
In the farewell video, titled "so long nerds," Technoblade's father reads a letter Techno had written eight hours before his death. In the letter, the content creator thanks everyone who has supported him in recent years. In addition, he explains that if he had a hundred lives left, he would choose to be Technoblade a hundred times over. In addition, in the video his father talks about the last months before his death. Technoblade's online store is still open, from all sales a portion of the profits will be donated to research against sarcomas.
Technoblade was one of the best Minecraft players in the world when it came to combat. The Youtuber, who was known for his iconic Pigman skin with crown, managed to win over millions of fans with his gameplay and humor. Among other things, he was active on the popular Minecraft server Hypixel and was also part of YouTube collective DreamSMP. His channel has eleven million subscribers, while each upload attracts millions of viewers.
Several major streamers and content creators have since shared their condolences. Major streamers like Dream, Ludwig, Wilburtsood, Tommyinnit and Quackity left messages on their various social media channels to honor their late friend. Minecraftserver Hypixel created a monument to commemorate Technoblade, they also opened a guestbook where anyone can leave a message, this will later be given to the family of the late content creator.
On Reddit and social media, fans are asking Minecraft developer Mojang to add a memorial in Minecraft for Technoblade because of his influence on the game and the community. The most requested suggestion is to give a crown to a pig when you call it Techno. At the time of publication, there is no response from Mojang regarding Technoblade's passing.