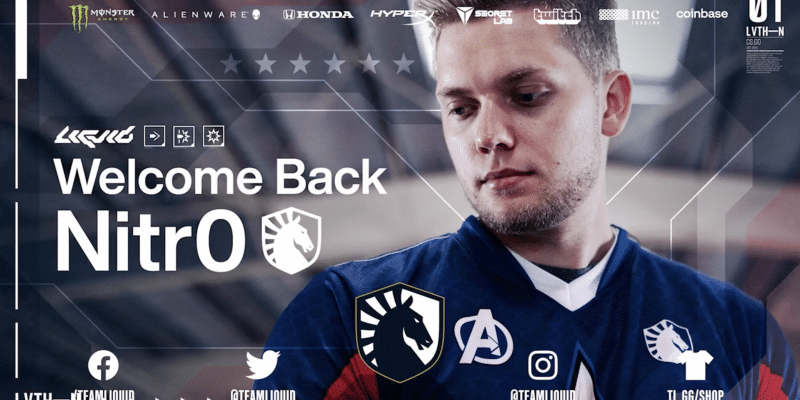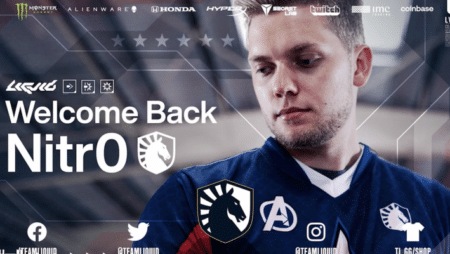 Team Liquid confirms the return of nitr0 as CSGO captain
After a passage that he describes as unwanted on VALORANT, Nicholas "nitr0" Cannella is back on CS:GO, Team Liquid has made official his arrival as captain of a renewed roster, including the French shox.
The return of Nicholas "nitr0" Cannella to Team Liquid and especially, on CS:GO had been leaked several weeks ago now. It is therefore not a surprise that Team Liquid announces his return to the position of captain of the team.
After a passage on VALORANT at 100 Thieves not originally desired by nitr0, due to a lack of proposals on CS:GO for the American player, he returns today to his first passion, Counter Strike. Despite qualifying for the 2021 Berlin Masters on the Riot Games title, where the Thieves managed to snag the Top 4 of the event, 2021 has not been a smooth ride for the Los Angeles-based outfit. At the VCT Last Chance Qualifier, the team failed to secure a spot in the VALORANT Champions, losing their first chance to Rise in the Upper Bracket Final and then to Cloud9 in the Lower Bracket Final. It was the PGL Major Stockholm 2021, which allowed nitr0 to return to CS:GO.
nitr0 is well known to the CS scene, he spent almost his entire career on the game of Valve. He was even present from 2015 to 2020 at Liquid before moving temporarily to VALORANT. In an interview given by the player to the Washington Post, we learn that it was during a discussion with Jonathan "EliGE" Jablonowski that he felt an opportunity for him on the side of Team Liquid. He also explains that at 100 Thieves, he was not far from losing his place in the roster, as the team had already released Steel, another CS:GO veteran, a few months earlier. His choice was greatly influenced by the extension of Keith "Naf" Markovic at Liquid, he explains.
His new role as Liquid's captain will not be easy, however. He finds himself in charge of turning around a team that has had many internal problems over the past year. Team Liquid had a kind of "war of egos" between its different players, who did not have the same vision in their way of playing. Some members of the roster were even accused of being too lax in training. All this put together made this team, which on paper had everything to become a dominant team on the American scene, sink. During his time away from CS:GO, Nicholas "nitr0" Cannella says he learned a lot. Becoming a father has made him mature and he's much more assertive now. He says he has also greatly evolved in the way he communicates with his teammates. At Team Liquid, his objective is simple, to restore the reputation of the team, which has not been shining for some time. At his side will also arrive the French Richard "shox" Papillon, former Vitality but also Joshua "oSee" Ohm, new sniper of the roster.