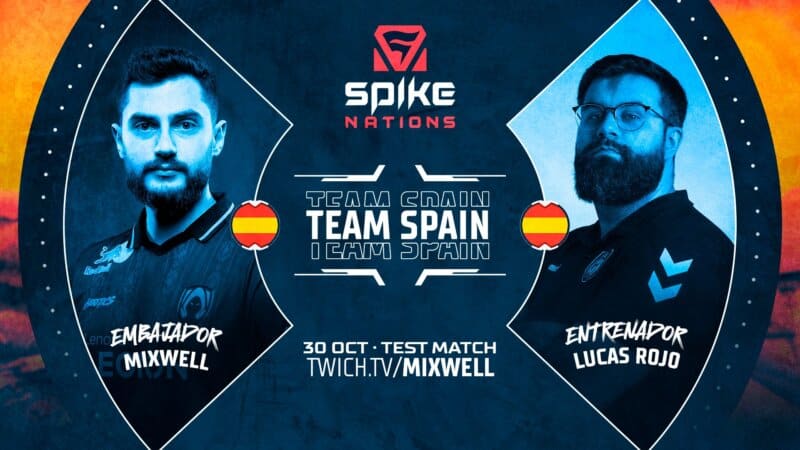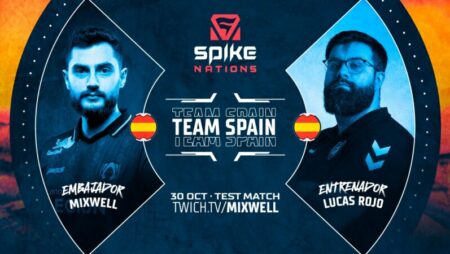 Team Spain is gearing up for their final tryout for Spike Nations tonight. Mixwell and Lucas Rojo have their final twelve players ready for a showdown match that will determine the final roster for the event. Oscar "Mixwell" Cañellas, who recently retired from competitive VALORANT, has returned to the scene in a unique role for Team Spain and the Spike Nations Cup.
Mixwell's return to competitive play has generated excitement among fans and fellow players alike. His experience and skill will be invaluable to Team Spain as they compete in the Spike Nations Cup. The final roster decision will be a crucial one, and all eyes will be on the showdown match tonight to see who will make the cut.
Mixwell is a True Ambassador for Spain's Talent in Spike Nations Cup
Despite officially retiring from competitive VALORANT, Mixwell has taken on a unique role as a team selector for Team Spain in the upcoming Spike Nations Cup. He is currently setting up the final showdown match to decide the starting six players for the team.
Mixwell has a wealth of talent to choose from, with players from Pro play, Challengers, and Game Changers all vying for a spot on the team. The list of potential players includes Adolfo "Fit1nho" Gallego from Giants Esports, Salvador "Yurii" Gasco, Toki, and Mimi from Case Esports, Nicolás "Nixerino" Canellas Colocho and Tomas "Vorwenn" Baldrich from Movistar Riders, Michelx16 from AYM, Antonio "Guardy" Guardiola from ZETA, Paula "Devilasxa" Blanco Martínez from Rebels Gaming, Leyre from Mad Lions LAURË, and Daniel "Saiz" Ruiz and Christian "lowel" Antoran, who are currently free agents.
These players will compete against each other to secure one of the six spots on the Spanish team. The final selection will be made at 20:30 tonight on Mixwell's Twitch Channel, where fans can watch the showdown and see who will represent Spain in the Spike Nations Cup. Mixwell's involvement in the selection process highlights his commitment to promoting and showcasing Spain's top VALORANT talent.
Mixwell's Legacy at a Glance
Mixwell began his esports journey in 2012, where he made a name for himself in the CS arena due to his skill with the AWP and consistent performances. However, with the rise of Valorant, Mixwell transitioned to this new FPS and joined G2 Esports in June 2020. Under his leadership, G2 showcased dominance and won numerous tournaments throughout 2020 and 2021.
Mixwell's leadership also led G2 to a commendable top-four finish at the 2021 Masters: Berlin, where they lost to the eventual champions, Gambit Esports. In late 2022, Mixwell joined Team Heretics, but their performance in the EMEA League was underwhelming. Their journey in 2023 concluded with a defeat in the EMEA LCQ.
Despite his team's underwhelming performance, Mixwell's legacy in esports remains remarkable. His prowess with the AWP in CS and his leadership in Valorant established him as a stalwart in the esports scene. In his retirement announcement on his Twitch stream, he expressed his gratitude to his fans and teammates, marking the end of a remarkable career.