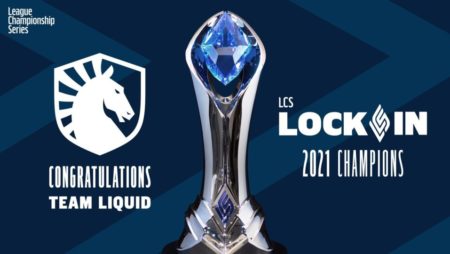 LoL: LCS Lock-In Winner Liquid
The LCS Lock-In tournament has found a worthy winner with Team Liquid. Final opponent Cloud9 around superstar Luka "Perkz" Perkovic missed the second reverse sweep.
The opening tournament of the North American League of Legends LCS is an early showdown of all teams. This year's lock-in tournament was won by Team Liquid (TL), who defeated Cloud9 3-2 in a heart-stopping final.
LCS Lock-In: Team Liquid takes the crown
In a high-class encounter, it was Liquid who built an early 2-0 lead. What looked like a one-sided final turned out to be a real challenge. Cloud9 closed the gap in game three after laying Baron and Fire Drake in quick succession. Cloud9 maintained control in game four as well and deservedly evened the score – 2:2.
Congratulations again to @TeamLiquidLoL on winning 2021 #LCS Lock In! GG WP! #TLWIN

The 2021 LCS Spring Split kicks off on February 5th at 2:30PM PT / 11:30PM CET with LCS Countdown! Thank you for watching with us all weekend and have a great night! #MadeByMany pic.twitter.com/GYlq6OD6l1

— LCS (@LCSOfficial) February 1, 2021
C9 had the momentum on its side, but Jo "CoreJJ" Yong-in and Barney "Alphari" Morris in particular stood up to the reverse sweep. Both showed incredibly strong and consistent performances throughout the finals. TL took the deciding third game and thus the title. Alphari, TL's new addition to the top lane, was rightfully voted Finals MVP.
For Cloud9, it would have been their second reserve sweep of the event. They were already down 0-2 to 100 Thieves in the semifinals before Jesper "Zven" Svenningsen turned it up and still decided the outcome in Cloud9's favor, even becoming MVP.
TL was rewarded with 150,000 US dollars for the victory. In our current power rankings, Team Liquid is in first place, followed by Cloud9 and 100 Thieves. Fourth and fifth place go to EG and TSM.