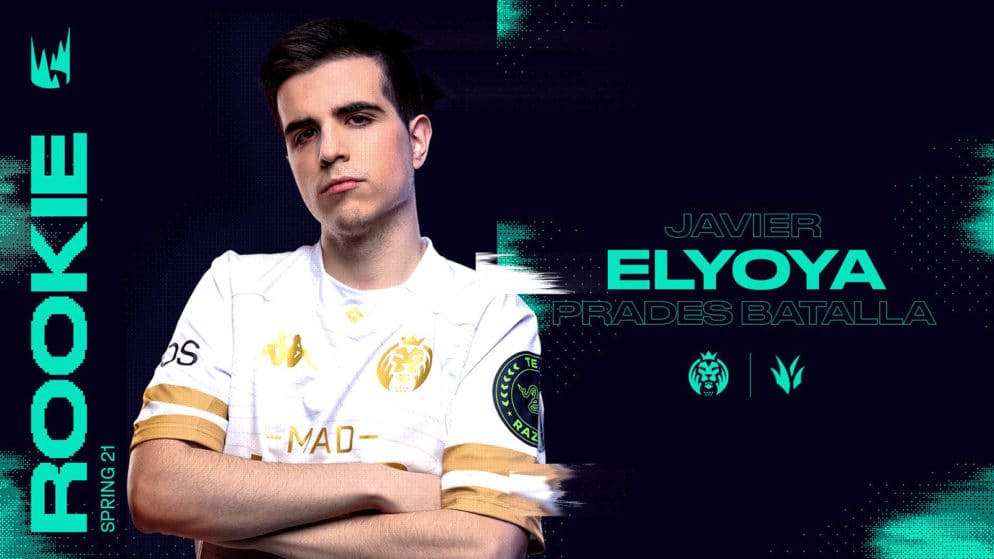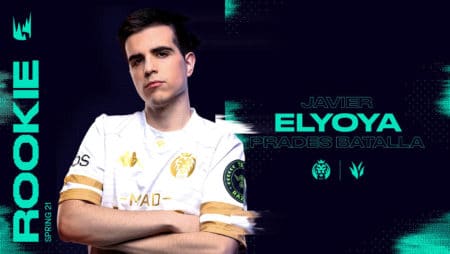 LEC: Elyoya and Rekkles honored
Already before the victory of the MAD Lions in the final against Rogue, the jungler Elyoya was elected best rookie of the Spring Split. Meanwhile, an old acquaintance becomes MVP.
The 21-year-old will not forget this day in a hurry. Because for Javier "Elyoya" Prades Batalla there were several reasons to celebrate last Sunday. With the MAD Lions, the Spaniard managed the reverse sweep against Rogue in the final of the Spring Split of the LEC after a 0:2 deficit, which secured MAD the first title win in history. For the first time in seven years, the winner of the LEC is not Fnatic or G2 Esports.
The @Kia_Worldwide MVP of 2021 #LEC Spring: @RekklesLoL! pic.twitter.com/8jEfKLMbG2

— LEC (@LEC) April 10, 2021
Before the start of the final, however, Elyoya already had his first trophy to look forward to, as he was voted Rookie of the Spring Split by the LEC fans. He prevailed in the election against two supporters: Treatz from SK Gaming came in second and Trymbi from final opponent Rogue came in third. Elyoya made a name for himself in his debut season with his aggressive style of play in the early game, including achieving the highest kill percentage at his position.
Rekkles named MVP despite semifinal loss
With a little less joy Martin "Rekkles" Larsson will accept the award for MVP of the Spring Split. After moving from Fnatic to G2 Esports, the Swede was hoping to win titles, but had to watch in the finals after losing to Rogue in the decisive game of the lower bracket.
Nonetheless, G2's AD Carry's selection as MVP is well deserved. Rekkles fit right in with the new team, posting by far the best KDA of the split at 12.6. The 24-year-old was not only the lone top player in Europe. No player from the big regions, such as Korea, China or the USA, was able to break this value. Inspired and Odoamne from Rogue in second and third place had no chance of winning this individual title.
Dubious choice of the All-Pro team
With these stats, it's no surprise that Rekkles is also on the Spring Split All-Pro Team. What is surprising, however, are the choices in the other positions, as G2's entire roster of Wunder, Jankos, Caps and Mikyx also made this team. It is only in the second and third teams that appreciations of good performances become partially noticeable.
The second team consists of four players from Rogue with Odoamne, Inspired, Larssen and Hans Sama as well as Fnatics supporter Hylissang. The third team includes Bwipo (Fnatic), Elyoya, Humanoid (both MAD Lions), Upset (Fnatic) and Kaiser (MAD Lions). This shows how much the voting is skewed by fan favorites. G2 and Fnatic still have the largest fanbases and therefore receive the most votes, regardless of performance.