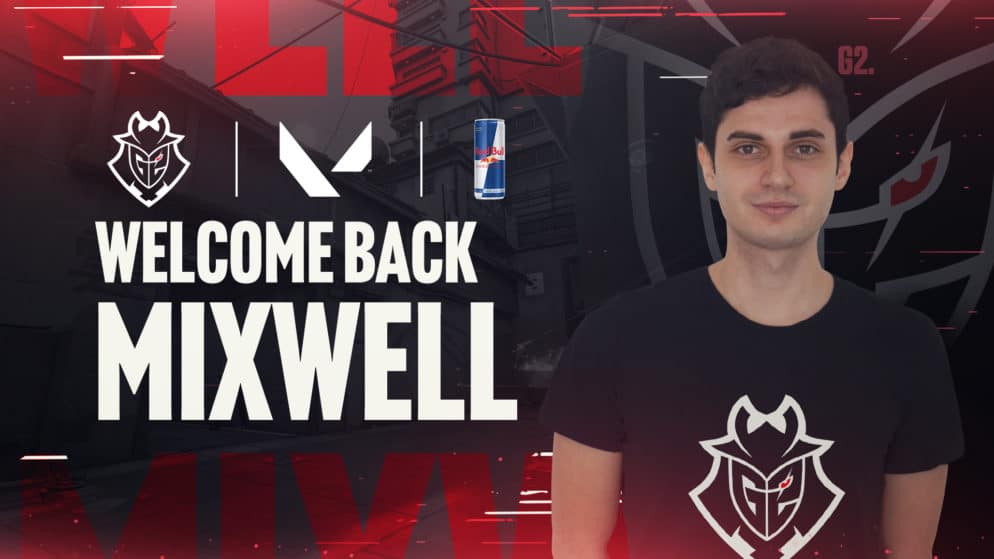 G2 Esports gives its Valorant project to Mixwell, the signing of the year
G2 Esports, Mixwell and a beautiful future at Valorant, that must have been the thinking of both parties as they confirmed a historic agreement for team and player, a firm commitment to the Riot Games shooter with one of the most successful Spanish players to make a team around him.
It seemed destined to be so. G2 Esports and Mixwell had shown, each in their own way, that they were committed to everything related to Valorant since the birth of its beta from streaming to the first invitations, an indirect link that Ocelote has ended with which is undoubtedly one of the signings of the year.
G2 places Mixwell as captain at the helm of one of the first top teams in Europe for the shooter and thus confirms an open secret, the professional farewell of the Spanish CS:GO entry fragger. An exit he had hinted at on more than one occasion since his focus on Valorant, but one that we now have officially obtained.
The deal comes just a week after Mixwell won the European Championship title at the biggest invitational ever (Twitch Rivals: Valorant Launch Showdown), a further demonstration of his ability to lead the group and train it to the top.
Mixwell will be the captain and, according to the inside jokes in the video that accompanies his signing, he will be one of the people in charge of composing the roster with which G2 Esports launches into the adventure of a game called to give CS:GO a lot of fight in the competitive one.
The player himself admitted after his signing that "the history of G2 shows that they are competitive in every game they take part in and its content is also top, many of my fans are already G2 fans and that makes even more sense to me. The goal is to be the best Valorant team in the world and I want to be the best player in the game.
For his part, Ocelote, another who has spent quite a few hours getting hooked on the game even in streaming with his new signing, is clear: "Valorant is an incredible game and I enjoy playing it as much as I do watching it. G2 will have a world champion team and it all starts with Mixwell. Many teams have fought to have him and we are delighted that he has put so much confidence in us to build a brutal line-up around him".
Mixwell's farewell message to CS:GO
He's back and ready for action!

Join us in welcoming @Mixwell as the first member of our @PlayValorant roster!

📰: https://t.co/Ltd5IcMLyq pic.twitter.com/1HqFFnpZbd

— G2 Esports (@G2esports) June 16, 2020
Although it was obvious, Mixwell needed to express his gratitude to CS:GO after so many years of success in the elite, hence a closing message after his most important professional period: "It has been an honour and a privilege to compete in your CS:GO game, thank you for all the good and bad times I will never forget. I am who I am today because of you. I want to thank everyone on the stage for taking care of me, your support means the whole world to me".
Mixwell thus opens a new door to the future after a curious past in which he was also at G2 for a brief period of his CS:GO roster, but now everything is different. He's captain, he'll be looking to have the best on his side and will be the leader of a project that aims to win, all with the commitment of Red Bull, the official partner of Valorant's team.