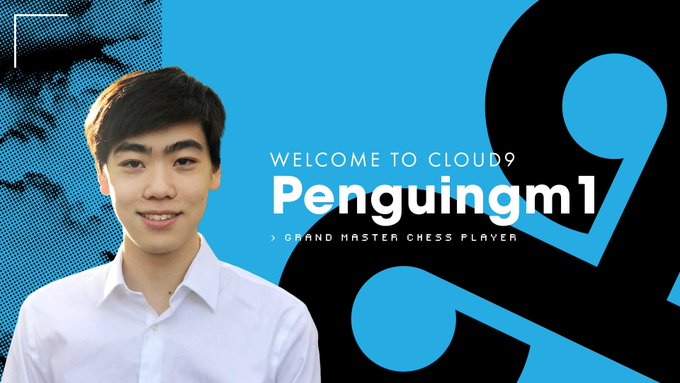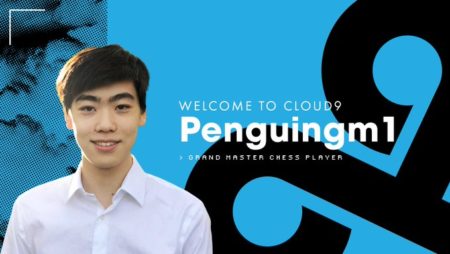 Cloud9 Announce Signing of Grandmaster Chess Player "Penguingm1″
Cloud9 has become the latest Esports organization to sign a chess player, with the North American's having announced that Andrew "Penguingm1" Tang has joined their ranks. Known as one of the best hyperbullet and ultrabullet players around, Penguingm1 becomes Cloud9's first grandmaster chess player, with the 20-year-old having three national titles to his name already.
Why Esports Organizations Are Targeting Chess Players
Signing chess players is one of the biggest trends for organizations, due to the fact that it is now recognized as an official Esport. Having already beaten reigning world champion Magnus Carlsen over a hundred times, Penguingm1's arrival at Cloud9 is the latest in a long list of achievements for the American. Writing on their official blog, Cloud9 wrote: "Cloud9 is excited to announce our foray into the competitive gaming environment of Chess by welcoming the newest member of our organization, Andrew penguingm1 Tang!"
Tang first became a grandmaster aged just 18, while he remains the only player in the world to have defeated stockfish's levels 1-8 in ultrabullet. Meanwhile, Penguingm1 is also the most recent competitor to defeat Leela Chess Zero, a well-known neutral network chess engine. Adding to their blog post, Cloud9 continued by saying: "[His] set of skills are among the best in the world and his knowledge of the game makes his playstyle incredible to watch."
Chess Continues to Grow
Penguingm1 joins Hikaru Nakamuru in having joined a professional Esports organization, with the x5 US Chess Champion having joined Team SoloMid just last month. Such arrivals have also aided the development of the game on streaming platform Twitch, with the chess category there having over almost 1 million followers, as well as consistently achieving 10,000 viewers. Meanwhile, Penguingm1 himself has some 26,000 thousand followers on Twitch.
Some are still unconvinced about chess' standing in the world of Esports, however many have already pointed out that it is similar to other online strategy games, such as Teamfight Tactics and Hearthstone. Meanwhile, it appears to meet the credentials more than a title such as Magic: The Gathering.